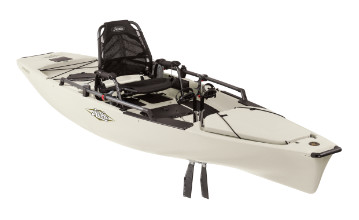 PRICE $4,449
CAMO PRICE $4,699
Specifications
Crew: 1
Drive:  Miragedrive 180 Turbo w/Kick-up Fins and Arc Cranks
Length: 13′ 8″
Width: 38″
Capacity: 600 lbs
Vantage Seat Capacity: 350 lbs
Fitted Hull Weight: 110 lbs
Fully Rigged Weight: 138 lbs
Hull Construction: Rotomolded Polyethylene
Fish be warned: the Hobie Mirage Pro Angler 14 excels at helping anglers land prizes of every fin, stripe and color.
Whether it's a day of drift casting, dry flying, or exploring new saltwater haunts, the boat's super-stable, standing-friendly, rotomolded polyethylene hull encourages all styles of fishing. The Pro Angler 14's feature-laden deck packs the essentials—from easy-to-reach rod holders, to the fully adjustable Vantage Seat, to stowage for multiple Plano® tackle boxes—for years of blissful fishing.  The "Lowrance Ready" installation system makes adding a fishfinder a breeze.
COLORS AVAILABLE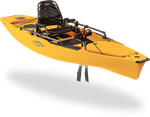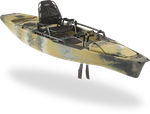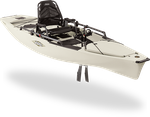 STANDARD FEATURES
Miragedrive 180 Turbo w/Kick-up Fins and Arc Cranks
Retractable Rudder System
Horizontal Rod Storage for Six Rods
Vantage Seating
Boa® System Lumbar Support
Extra Large Covered Bow Hatch with Liner
Large Center Hatch w/ Tackle Management System
Mid-Ship Handles w/ Bungee® Tie-Downs
Replaceable Mounting Boards
Rear Cargo Area w/ Bungee® Tie Downs
Molded-In Vertical Rod Storage
Mesh-Covered Stowage Pockets
Fixed Front and Rear Carrying Handles
8" Twist and Seal Hatches w/ Gear Bucket
Three Plano Tackle Boxes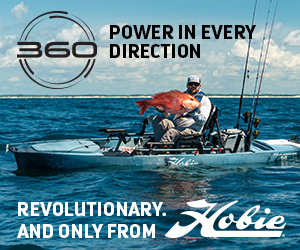 All colors, graphics and specifications of all models are subject to change without notice.
Mirage Pedal Kayaks
Mirage Pro Angler Fishing Kayaks


Mirage Islands