For a different type of paddling experience, try one of our pedalboards, stand up paddleboards or body boards. We will even give you a starter lesson in our shop for free!
Hobie Stand Up Pedalboards
The Hobie Mirage Eclipse takes standup to a whole new level! This new type of board is stable and suitable for newbies or experienced "paddlers" looking for a unique and fun ride. Not only is it easy to put together and launch, but the propulsion system and ease at which it moves through the water makes it conveniently suitable for both kids and adults alike. You just step on and "start walking" – no seat or paddle required. Soon you'll fly high at exceptional speed, nimbly carving turns using fingertip steering controls. The rudder conveniently folds up as you approach land, so there's no need to worry about ever causing damage to your blade. The Mirage Eclipse takes fitness out of the gym and onto the water and under the sun.
BIC Sport Stand Up Paddleboards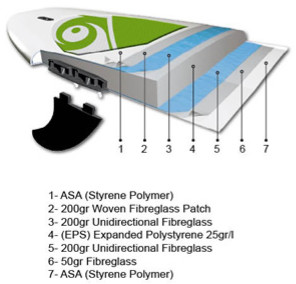 Whether you're a total beginner, top level pro, zen master or surf seeker, BIC SUP has a full range of boards to suit all skills and all styles. Best of all, the vast majority of our boards are built in France, using environmentally-friendly, non-polluting manufacturing techniques.
With decades of experience in windsurf and surfboard manufacturing BIC Sport is a pioneer of thermoformed composite construction technology. Over the past few years we've refined the ideal composite lay-up for SUP, with ACE-TEC as the result. Three sizes suit the needs of experienced riders and newbies alike with a unique combination of durability, light weight and performance shapes. All ACE-TEC boards come standard with the FCS fin system, a premium diamond groove EVA deck pad, ergo-grip carry handle and integrated rail guard.
Take the fun from the sandy beach to the surf with the Wave Skater® bodyboard.  The patented Wave Skater® one piece, compression molded, closed-cell bodyboard is ultra durable, semi-rigid, and will take an extraordinary amount of pounding without ever delaminating or breaking apart.