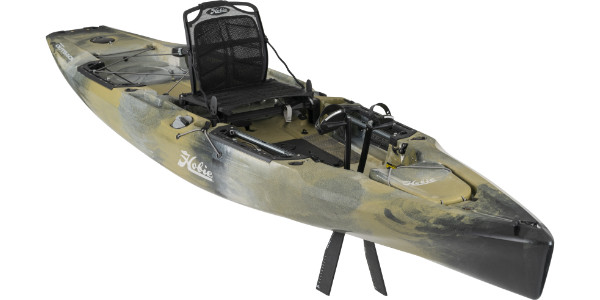 PRICE  $3,449
CAMO PRICE  $3,599
Specifications
Crew: 1
Drive: Miragedrive 180 Turbo w/Kick-up Fins and Arc Cranks
Length: 12' 9"
Width: 34"
Capacity: 425 lbs
Fitted Hull Weight: 85 lbs
Fully Rigged Weight: 103 lbs
Hull Construction: Rotomolded Polyethylene
Whether it's work or play, the Outback boasts the functionality, stability and utility to get the job done. A wide hull provides form stability, allowing you to cast – or reel in the big one – without rocking the boat. The Outback features plenty of cargo and stowage space, and, thanks to its MirageDrive® system, your hands are free to tend to your photography, casting, or whatever else is on the day's "work list".  Now with a built in Lowrance- Ready  transducer mount to make installing a fish finder/Transducer a snap.
COLORS AVAILABLE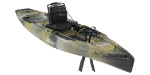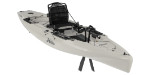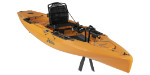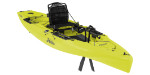 STANDARD FEATURES
Four Molded-In Rod Holders
Large Covered Bow Hatch
Lowrance® Ready
Mesh-Covered Stowage Pocket
MirageDrive MD 180 with Turbo Kick-Up Fins and Arc Crank
Rear Cargo Area with Bungee® Tie Downs
Sail Mount
Kick up Rudder
Multiple Deluxe H TracK mounts
Two-Piece Paddle with On-Hull Storage
Vantage CT Seating
All colors, graphics and specifications of all models are subject to change without notice.
Mirage Pedal Kayaks
Mirage Pro Angler Fishing Kayaks


Mirage Islands