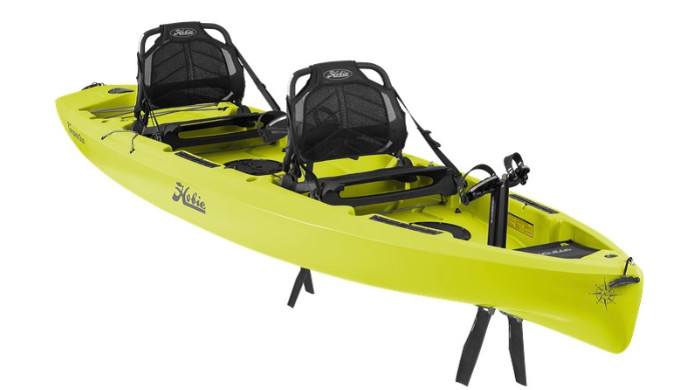 PRICE $3,849
SPECIFICATIONS
Crew: 2
Drive: (1) Miragedrive 180 + (1) Miragedrive GT both w/Kick-up Fins
Length: 13.5' / 4.11 m
Width: 35"
Capacity: 475 lbs
Fitted Hull Weight: 92 lbs
Fully Rigged Weight: 127 lbs
Hull Construction:  Rotomolded Polyethylene
Searching for an elegantly simple yet highly customizable tandem kayak for on-water adventures with family, friends, and pets? Look no further than the brand new Mirage Compass Duo, the latest addition to Hobie's lineup of award-winning pedal kayaks.
Powered by dual MirageDrives with Glide Technology, the Duo's sleek hull design maximizes speed and stability, while greatly reducing drag. The cockpit features comfortable, ergonomic seating, 4 Integrated H-Tracks for accessory mounting, and abundant above and below deck storage compartments to house gear for two. The sleek waterline and Kick-Up Rudder system make for an impressively nimble tandem kayak that's highly responsive, easy to steer and extremely durable. The roomy Compass Duo is simple to use and adventure-ready, making it the ideal choice for water outings with adults, tikes, and furry companions.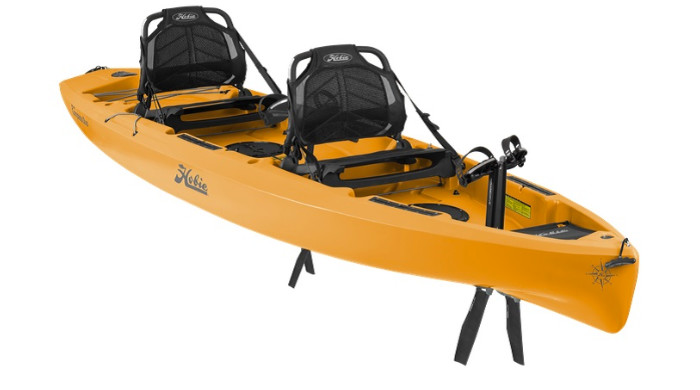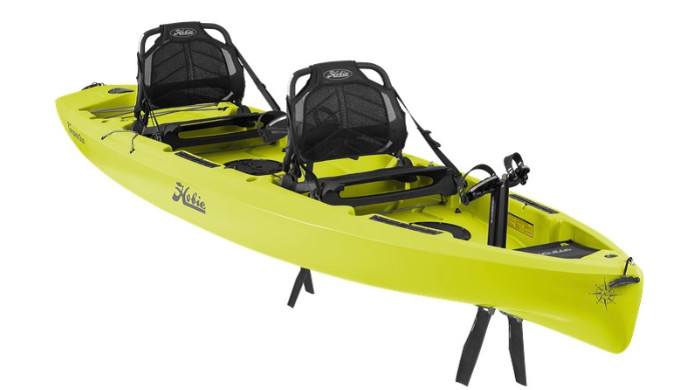 STANDARD FEATURES
Carrying Handles
Excellent Hull Performance
(1) Miragedrive 180 + (1) Miragedrive GT both w/Kick-up Fins
Under Seat Tackle Storage
Accessory Ready
Drink Holder
Optimal Seating Design
Easy Steering System
Storage Abounds
Two Rod Holders
All colors, graphics and specifications of all models are subject to change without notice.
Mirage Pedal Kayaks
Mirage Pro Angler Fishing Kayaks


Mirage Islands