Mirage Pro Angler 12 with 360 Drive Technology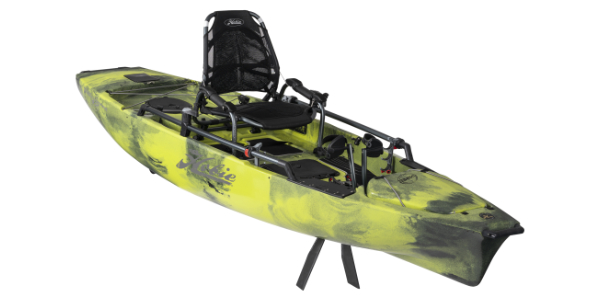 PRICE  $5,299
SPECIFICATIONS
Crew: 1
Drive:  Miragedrive 360 Turbo w/Kick-up Fins
Length: 12'
Width: 36"
Capacity: 500 lbs.
Fitted Hull Weight: 109.5 lbs.
Fully Rigged Weight: 132.5 lbs.
Hull Construction: Rotomolded Polyethylene
The Pro Angler 12 with the MirageDrive 360 and Kick-Up Fins gives you the competitive edge with full-circle power and maneuverability. With the all-new Kick Up fins – which automatically retract on impact – even shallow areas are now entirely navigable. Effortlessly spin and move in every direction. Hobie's new Kick-Up Fin Technology provides the power to charge through the water as never before. Logs, kelp, shallows, rocks, no problem. The PA 12 is packed full of features including six rod holders, the adjustable, elevated Vantage ST seat, extra wide hull and stain-resistant EVA padding.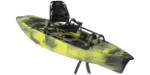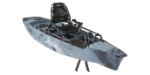 STANDARD FEATURE
Dual Rudder Steering: rudder control handles are located on both sides of the boat, for dual steering capability.
Maneuvering with the 360 Drive: a handle located above the left-side rudder control handle allows you to change the direction of your MirageDrive and fine tune your course to literally any degree of the compass, instantly. An arrow indicator on the Drive shows you which way the Drive is pointed. Ultimate boat control!
The fully rotational drive retains 360-degree maneuverability while in shallows even when the fins are completely up against the hull.
KICK-UP FEATURES:
The 360 Drive mast link system causes the turbo fins to kick-up on impact with underwater obstacles such as rocks, logs, kelp, etc., and they automatically redeploy when the obstacle has been cleared and pedaling has resumed. This feature will significantly reduce the chances of damage to the drive, such as bent masts.
Rudder and Skeg also Kick-up, and automatically redeploy.
All colors, graphics and specifications of all models are subject to change without notice.
Mirage Pedal Kayaks
Mirage Pro Angler Fishing Kayaks


Mirage Islands